Phakwondo's strategy
      Phakwondo's orientation is to train its disciples the ability to avoid and nullify all the attacks from their rivals.  The policy of nullifying and controlling their opponents is a high-degree art in fighting, which helps Phakwondo's disciples acquire calmness, knowing how to observe, being able to avoid group rivals and being envious and fond of surpassing others in competition.
The specific characteristics of Phakwondo are as follows:
Firmness and flexibility should be interchangeable  -  Unity of body and head  -  Yin-Yang and the Five universe basic elements should be developed  -  Responsive force should be uninterrupted in fighting  -  Posture method should be light and quick  -  Body method should be active  -  Hand method should be various  -  Foot method should show no images  -  Eye method should not show sympathy  -  Heroic sportsmanship.
In the self-defense technique, it is very necessary to keep oneself calm and judge situations, for the fact that if we can foresee what our opponent is going to act, we are regarded as having solved the problem, as Ton Tu – a well-known strategist  -  ever said: "Understanding ourselves and our opponents, we can surely win all the battles."
Self-defense can fight against knives
    In self-defense technique, fighting against knives is the basic technique.  This technique helps the defender be aware of the elements of using knives to attack as well as the reactions to be taken when attacked by knives.
          Let us analyze this technique psychologically  -  that is, how to use knives to attack and how to defense them:
When our opponent uses knives to attack us, he/she is in a psychological state which is an extremist state or condition with anger and the opponent wants to solve his/her problem or obstacles.  Accordingly, the opponent usually uses a strong, large and long knife.
Normally, the path of the knife shows its intended way which has two stages.  If the defender is cool, he/she can recognize the path right from the first stage and the final stage; therefore, it is the time for the defender to block the attack.
The defender can create a favorable point of time for the counter-attack by using attempts to move to and fro or around.
The defender can use supporting things like shoes, sandals, shirts or coats, bags, and sticks, etc. to stop the blow or to attack.
        We have had various fighting techniques for the training of disciples according to their constitution and their aptitude.  Today, we are going to mention just a system of art of warfare which has been applied to martial fighting aiming at suggesting some projects and techniques for an accepting fight, which will finally give us good results in self-defense.
.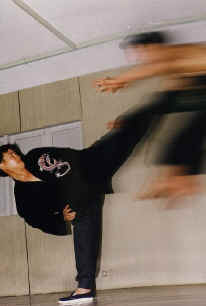 Thirty-six intrigues in fighting:
-Offensiveness: Use the first offensive posture, the second offensive posture, then the chain posture. Try to win with varied fight.
1. Tien phat tri nhan: (Intended intrigue) Throw the attack before the opponent starts actions
2. Lac tinh ha thach: While the opponent loses his/her posture, try to repeat pushing him/her away with the sole of our foot (like throwing stones at the opponent while he/she is fallen down to a well)
3. Nhat tien song dieu: Attack two objects at the same time
4. Sat ke hach hau: Forewarning fight (like killing a cock to threaten a monkey)
5. Di thu gia hoa: Squeeze the opponent and block his/her thrashing (like writing a letter accusing falsely him/her of an offence)
6. Cam tac cam vuong: Attack on the opponent's weak points (like forcing the opponent to arrest his/her king)
7. Qua kieu truu ban: Destroy the origin (like destroying a bridge once having passed over it)
8. Hao bac dan ngoc: Acquiring thrashing (like spending much to gain jade)
9. Ly dai dao cuong: Change thrashing (like exchanging an apple for an apple)
10. San hoa da kiep: It is the right time for the attack (like adding fuel to a flame)

-Defensiveness: Abolishing opponent's first posture, second posture, and chain posture.  Try to win over counter-attacks
1. Phu do truu tan:   Abolish opponent's strength or spreading opponent's force (like decreasing flame under the cooking-pot)
2.   Di dat dai lao:   Use healthiness to treat tiredness.
3.   Dan tru ngat ho:   Expose our weak point to entice opponent (like showing a red pig to entice a tiger into doing what we expect to have).
4.   Ta dao sat nhan:   Use opponent's thrash to attack him-/herself (like borrowing a person's knife and kill the knife owner him-/herself).
5.   Khong thanh ke:   Use no-intrigue thrash.
6.   Thuan thu khien duong:   Use either of your hands which is more apt with you (like you should use your favorable hand to lead the goat).
7.   Ta thai hoan hon:   Use somebody else's foetus to incarnate yourself.
8.   Tau ke:   Escape from your opponent's control (This is the case or you neither win nor lose because you are not involved in a fight).
-Counter-attack:  Avoid first counter-attack, second counter-attack, and chain attack. You can win offensiveness
1.   Vo trung sinh huu:   Appear suddenly  -  This is also called 'no-picture method' (You can also call this method 'No existence but existence')
2.   Khich tuong ke:  Defy your opponent after the self-excitement intrigue.
3.   Kho nhuc ke:   Pretend to fall down, to have pain, in order to entice your rival when he/she is off his/her guard and attack him/her. (This is the intrigue called 'To scoop to conquer').
4.   Minh tri co muoi: Pretend to be an idiot in order to launch a counter-attack (This trick is known as 'Pretending to be ignorant').
5.   Dieu ho ly son: Lure your rival into leaving his/her headquarter and then attack him/her (This trick is known shortly as 'Luring a tiger into leaving its den').
6.   Kim thuyen thoat xac: Avoid meeting, dive under, or carry your opponent on your head (This trick is known as 'Cicada throwing its outer cover).
7.   Phan khach lam chu: Leaving last but arriving first, or exchanging thrash (Try to be active)
8.   Phan gian ke: Try to sound your rival's information. (This trick is known shortly as 'Counter-intelligence)

-Versatile tactics: Laying a trap, threatening, luring, flickering a thrash. Try to win with defensiveness
1.   Du long chuyen phuong:   Measure versatility (This tactic is known as 'Transforming a dragon into a phoenix')
2.   Chi tang ma hoe:   Aim at your opponent's head but then attack his/her feet (This trick is still known as 'Pointing at a strawberry plant but scolding another plant').
3.   Thanh dong kich tay:   Lifting hands in the left direction but hitting objects in the right direction (This trick is shortly known as 'Pointing at the east but attacking in the west').
4. Hu truong thanh the:   Blow up someone's power and influence (Threatening).
5.   Da thao kinh xa:   Use a dynamic state to control a quiet state like clapping your hands or threatening to hit (This trick is the same as hitting the grass in order to scare the snakes).
6.   Am do Tran Suong:   Attack secretly (Secretly pass over Tran Suong River)
7.   Man thien qua hai:   Create an disorder in order to launch an attack (This trick is known as 'Creating a foggy state over the surface of a river in order to pass over it successfully without being noticed).
8.   Duc cam co tung:   Push your rival into a state in which he/she has to react at your will (Pretending to release someone whom you really want to seize).
9.   My nhan ke:   Use a beauty trap (Trying to create sympathy with someone (Making use of his/her not being on watch).
10. Chain intrigue: Coordinate all your intrigues and make them into a chain one

-Long battle: Usually use your counter-attack form afar by moving and using your feet.
-Short battle: Usually use your hands and apply a chain of short-distance boxing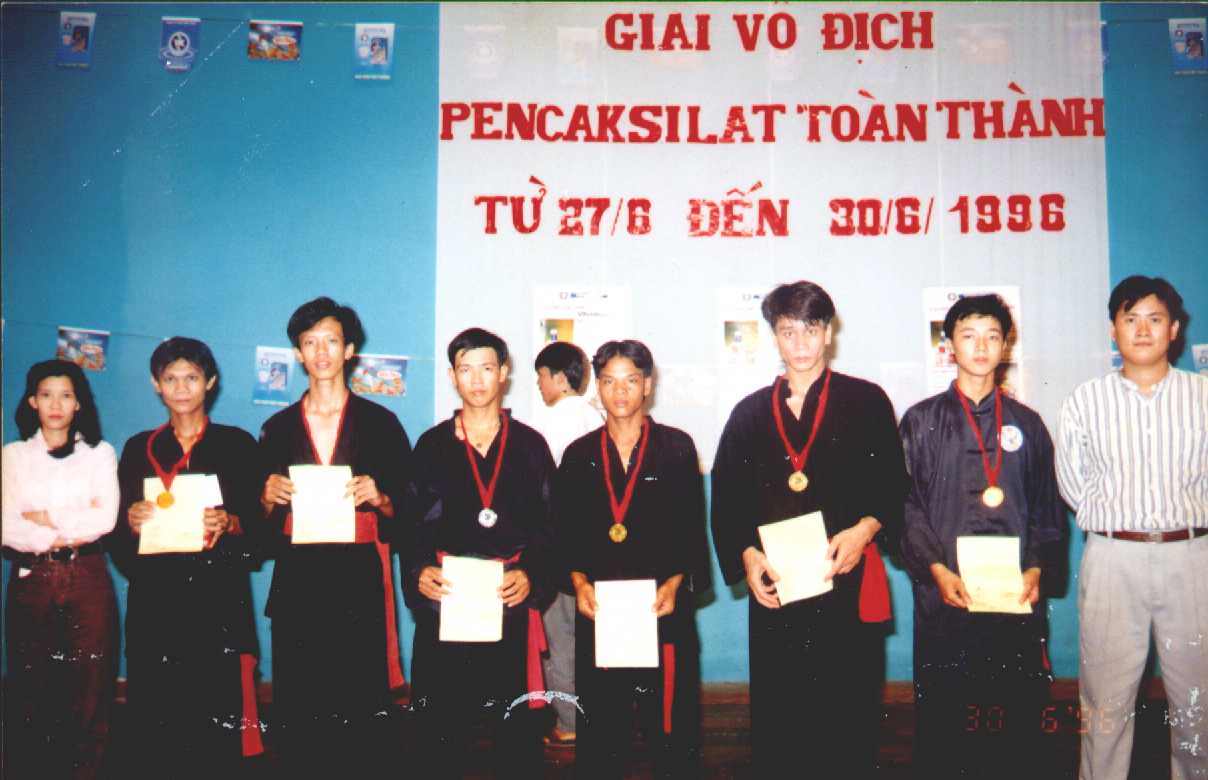 Phakwondo disciples have made a lot of achievements at the competitions organized in Hochiminh City and throughout the country
For a firm fight:
Everything being at close hands must be always with the disciple
The disciple should always be calm
During the fight, the disciple needs to have firm postures
You should be diligent if you want to give prominence to martial arts
You should distinguish what is false from what is true
Do not retreat your elbows
Movements need quietness
What needs to do first is to close rival's hands
There should be modifications on half-way
Hands need to search for opponent's trace
Later, there should repeated thrashes
Of the thirty-six postures, there should be nine long  and five short ones
Horizontal posture should combine with vertical one, and vice versa
Advance – Retreat – React – Modify – Lengthen – Shorten
Heightening – Sincere – Close-up -  Urgency – Dedication
The five thrashing methods:   Holding – Destruction – Tracing – Blocking – Seizing
Discharging what comes back
Movements need exploitation, Quiet needs urgency