Phakwondo is a sect of martial art that is rather special due to its establishment through the process of study, experience and then summarization.
I- Explaining the meaning of the name Hoa Quyen Dao or Phakwondo
Hoa = Versatility, evolvement, solvement...
It means the versatility of the universe, the evolvement of society and transformation into martial art studying. So far, the evolvement has been taking place through generations so that this sect suits man's modern life. It – the evolvement – is realized by the study from the concentration of the principle elements of the martial art to the key elements of perfect science of the martial art. The evolvement is also based on the thinking of developed human beings with their intelligence together with scientific calculations.
Quyen = Martial art, power.
The conception of martial art in Phakwondo is based on the principles of power based on the theory of movement which transforms and operates through the determination of the trainee and the trainee himself will perform the kungfu skills at his will.
Dao is the way which leads trainees or practitioners to the spirit of kungfutology.
With such above-mentioned significance, a martial art student has to understand throughly the principles of kungfutology. Then he himself has the duty to develop and perfect them. Students have to manipulate the principles, not just to learn by heart. The way that students have to improve is vo cong (martial-art-force) – vo thuat (martial art yechnique) – vo chien (martial-art-combat) – vo dao (martial-art-way).
The Phakondo's basic foundation is displayed on the badge of the vo phai (martial art sect):
- The hand shows the fist of Thai cuc (Extreme) - Am duong (Yin Yang: 2 complementary principles of Chinese philosophy. Yin means negative and Yang means positive). One thumb and four fingers are Ngu hanh (The five basic elements in the universe - metal, wood, water, fire and earth - according to Eastern philosophy).
- The badge shows ideas of Vo cuc (Infinity) - Thai cuc (Extreme) - Luong nghi (Heaven and Earth) - Tam tai (Body, Spirit and God) - Tu tuong (Advance and turning back in concord) - Luc hop (Six factors in harmony) - That tinh (The combined Yin Yang and the five basic universe elements) - Bat quai (Eight-sign figure) - Cuu cung (Defined nine-area sectors to perfect technologies). (Concentration, Development, Science)
- The combination of the elements in kungfutology is martial art, martial-art-combat, martial-art-force, martial-art-way.
- Vo cuc is a versatile and reverse circle of techniques that transform forces...
- Thai cuc is a spiral path used in techniques of keeping, solving matters...
- Am duong (yin yang) is a change of two sides in martial art like hard and soft, up and down, beginning and end, moving forwards and backwards, true and false, long and short, fast and slow, vertical and horizontal, attack and defence, etc.
- Tam tai (Body, Spirit, God) is divided into 3 levels that are high, medium and low or heavenly approved time, favourable terrain, concord among the people. Tam tai, the technique that combines body, hands and gestures, is the technique of three-door temple gate...
- Tu tuong (Advance and turning back in concord) is the basic technique of a movement which is divided into 4 parts...
- Ngu hanh (The five basic elements in the universe) is the force of the 5 basic elements in the universe such as metal, wood, water, fire and earth...
- Luc hop (Six factors in harmony) compromises internal-three-harmony, external-three-harmony, 6 magical powers (according to Buddhism, they are eyes, nose, ears, tongue, body and willingess), 6 movements...
- That tinh is yin & yang and cuu cung combined.
- Bat quai means eight-sign figure. It includes 8 divisions showing natural phenomena, such as can (skies), kham (water), can (mountains), chan (winds), ton (thunders), ly (fire), khon (earth), doai (reservoirs). Bat quai also means que (lots) represented by 8 lines that show 8 directions.
+ In Bat quai, there are 8 directions. They include:
- 4 main directions (up, down, left, right) are straight directions or "firm" directions.
- 4 inclined directions (inclined with 4 main directions) are oblique directions or "yielding" directions
- Cuu cung are defined as nine areas used to perfect technologies.
- Nhu y (desire or willingness) is divided into lessons like Tuong Hinh Y Quyen (Quyen means boxing. Tuong Hinh Y Quyen means boxing with good combination of ideas and limbs) according to the degree of technical skills and changing as each person's feeling...
- Lam Ba is numeral, pictographic digit which are Phakondo special techniques invented by Master Do Phi Long whose invention is based on cuu cung, bat quai and arithmatics. A wise person has to reckon everything in life and martial art.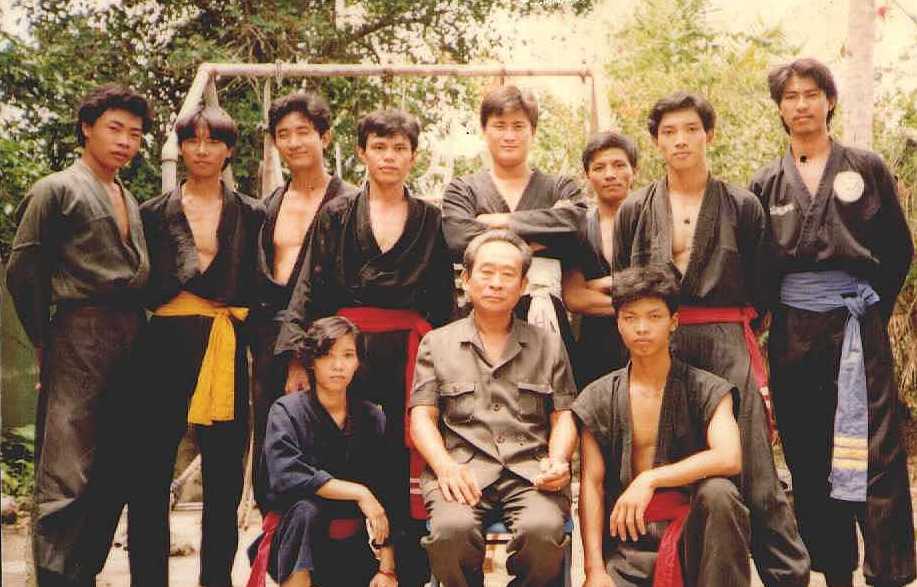 Master Do Phi Long and Phakwondo's board of instructors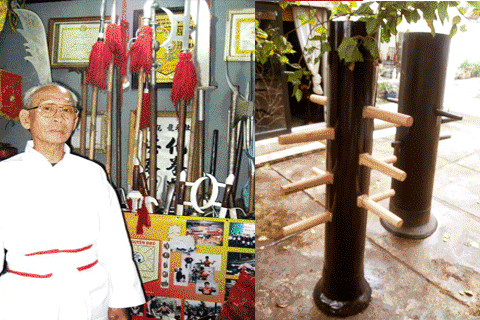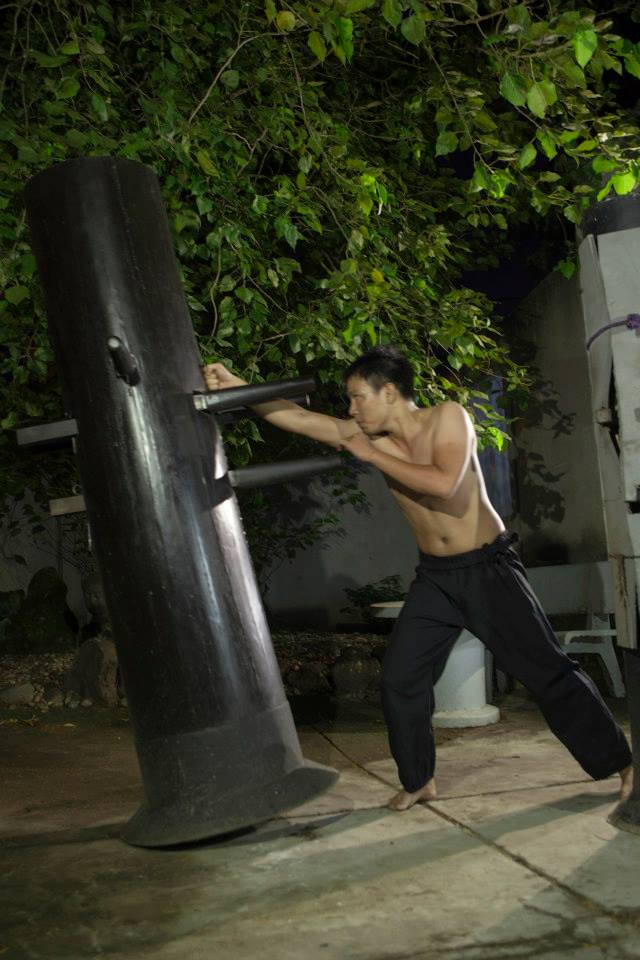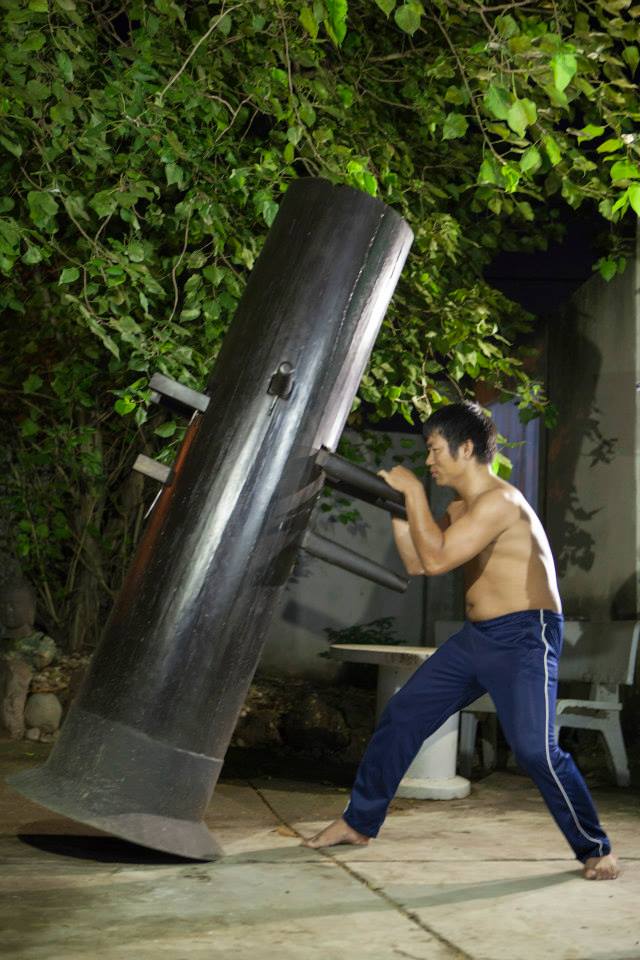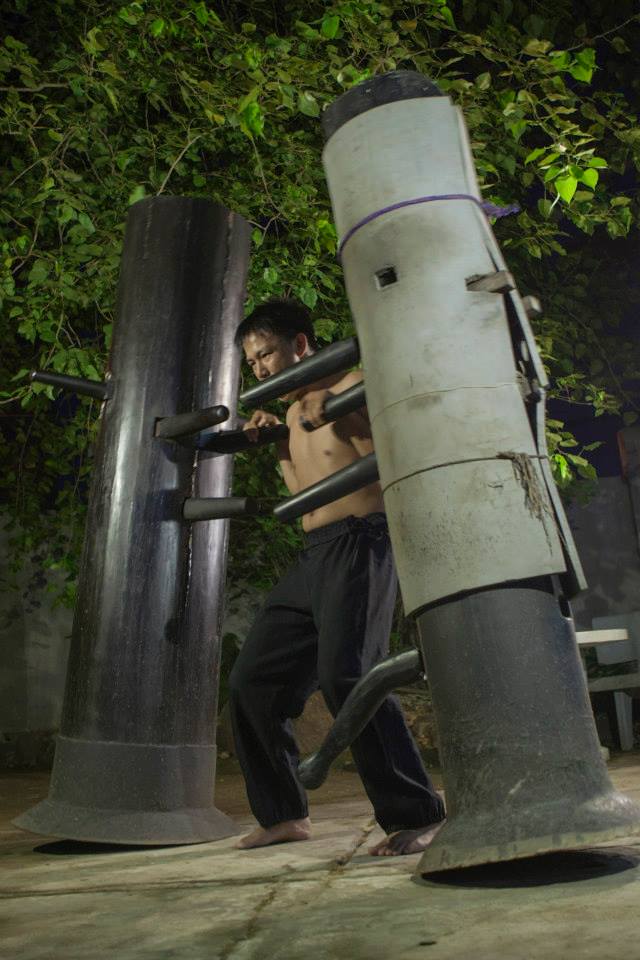 Dummy 600kg